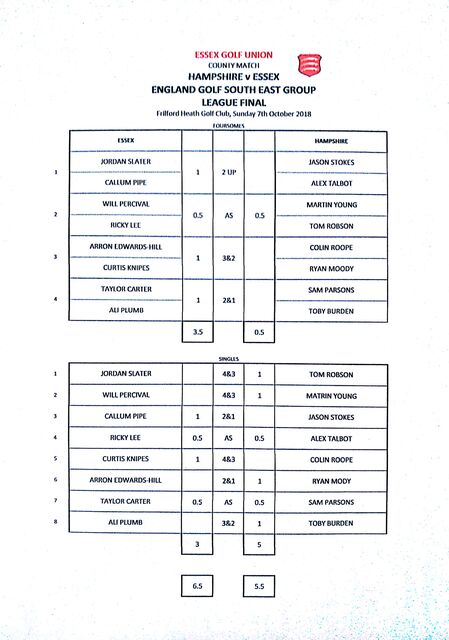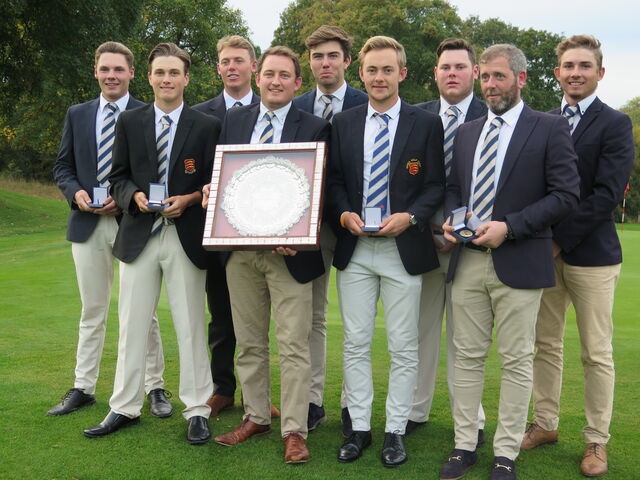 After winning the Northern Section of the South East Group League with a 100% record, the Essex County Team arrived at Frilford Heath Golf Club on a clear, cold Sunday October morning, to take on the South section winners and last year's English County Champions Hampshire in the final match to decide the overall South East Champions and winners of the Daily Telegraph Salver.
With last year's narrow defeat to Surrey in this fixture still burning strong, the Essex lads were in no mood to allow a repeat. Hampshire, however would be a very tough nut to crack and a close match was envisaged. Just how close would unfold in a day of high drama.
As winners of the Eastern Counties Foursomes for the last 2 years, Essex were in confident mood for the morning matches and sure enough all the early exchanges were in our favour. At the turn we were ahead in 3 games with just Callum and Jordan being one adrift. This they managed to turn around and by the 18th were lying dormy 1 up. Callum's tee shot on the 300 yds par 4 saw his 3 wood pin high just off the green making his opponent have no option but to have a crack with driver which he pulled out of bounds left. Game over and a great start for Essex. Game 2 saw Will and Ricky up against Hampshire top pairing Martin Young and Tom Robson. After being 1 up at the turn, the Hants pair won 3 of the next 4 holes with some sparkling golf leaving them 2 up standing on the 14th tee and in confident mood. Ricky and Will had other ideas and won the next 2 holes to square the game. A half was a fitting outcome in a superb game of foursomes and this was to prove crucial in the following struggle.
With Curtis & Arron and Taylor & Ali having relatively comfortable wins in their games, lunch was taken with Essex having a commanding 3.5 to 0.5 lead and Hampshire visibly crestfallen.
With temperatures warming and Frilford looking a picture, the afternoon singles got underway. It was clear that Hampshire were not for giving up easily as Hants number 1 Tom Robson started with 2 birdies and an eagle in the first four holes to hold a 2 up lead. This standard carried on and Tom ran out a 4&3 winner. In match 2 Will had a 1 hole lead at the turn against last years Hants Captain Martin Young but after losing 4 holes on the spin the second point was on the board for Hampshire.
In the other games things were also not going the way of Essex. Apart from Callum and Essex Champion Curtis, who held comfortable leads after 10 holes and Ricky who was all square, all the other matches were with the opposition and tension was mounting.
Sure enough Curtis and Callum secured their respective wins leaving Essex needing one more point to win the Title. With Ricky standing on the 18th tee one up, the final point was in our grasp, but lady luck decided to intervene. With Ricky's iron safely down the middle it was clear that his opponent needed something special so he pulled out the driver. As in match 1 in the morning this was carved left into the car park with a provisional ball taken and the match looking the bag for Essex.
With an ominous looking dent in the roof of a Porche it was clear the ball had gone OB. After a search however the Hants ball was found some 50 yds over the green next to the practise putting green. After intervention by the England Rules Official, the ball was deemed in bounds by a couple of inches. All this time Ricky had been patiently waiting by his ball expecting the game to be conceeded only to now face a 70 yds shot to the green. This he duly did leaving a near 20 ft putt for birdie. The hants player young Alex Talbot followed suit. Ricky to go first leaves his putt some 5 ft short and with Alex 2 putting for a very unlikely par this left Ricky with his short putt to win the Title. Horseshoes are supposed to be lucky but with the green surrounded with spectators this one proved to be with Hampshire as the ball somehow stayed out. A half to both players and score 6/5 to Essex with only Taylor Carter left out on the course. Encouragingly for Essex he was one up with 2 to play.
The 17th hole showed just what a talented side Hampshire are, with Sam Parsons making Birdie on 17 the match was all square playing the last. Both made the green in regulation and with Sam making a comfortable par, Taylor was left with a putt virtually identical to Ricky's to seal his match and win the trophy. The green was surrounded and a pin could be heard to drop as Taylor's Putt rolled into the cup for the half point taking Essex to the Title. What a match !!!
County Captain Andy May thanked Frilford Heath Golf Club for their excellent hospitality and course preparation, also to the England South East Group Officials for their excellent organisation.
Team: (Left to Right) Curtis Knipes (Abridge), Arron Edwards-Hill (Chelmsford), Jordan Slater (Colchester), Andy May (County Captain-Boyce Hill), Callum Pipe (Braintree), Taylor Carter (Rayleigh), Will Percival (Orsett), Ricky Lee (Boyce Hill), Ali Plumb (Chelmsford)
Phil Hulse, County Team Manager