The first England Golf South East Group league match of the season took place at Home course Chelmsford on Sunday12th May against the cream of Bedfordshire in our quest for a hat-trick of North section league titles.
On a lovely clear sunny morning with the Chelmsford course looking its usual immaculate self, the 4 foursomes matches set off. First out was Brandon Meads partnering Josh Read from The Rayleigh Club who was making his league debut fresh from his triumph in the recent Keating Trophy. In opposition, Beds skipper Norman Cilliers alongside Seb Lovell. A very close match as expected with no more than 1 hole in it all the way. With the away side 1 up playing 17 and Brandon and Josh staring defeat in the face, the Beds par put for half, horseshoeing the hole and staying up. All square at the last and with both tee shots making the green, Beds to go first with Norm putting to holeside for a gimme par leaving Brandon 12ft or so for birdie. With the ball somehow summoning the momentum to crawl in at the last roll, and a collapsing Beds skipper in disbelief, the game won and an unlikely point on the board for the home side.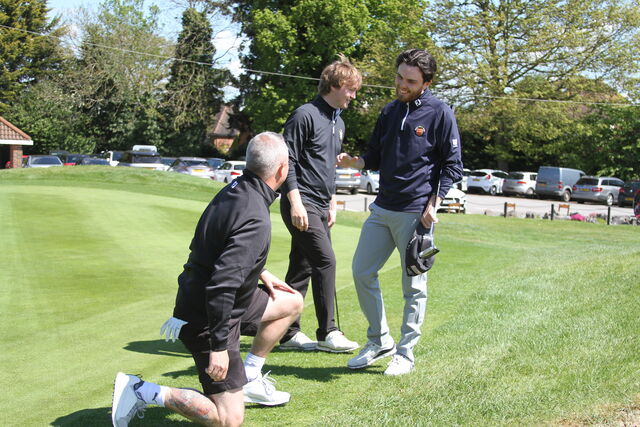 Revenge, as they say, is sweet, however. with game 3 of Ross Dee and Jamie Richards 1 up playing 17 the Beds pair chipping in for Birdie - all square playing 18 and with Beds just off the putting surface from the tee, Ross leaving Jamie a tough bunker shot from a plugged ball which he then put to 15 or so feet. Beds chipping on very close for a gimme par leaving Ross a tough par put to half the game which just ran by. Honours then, even and with each of the 2 remaining matches being shared (wins for Essex pair Ricky Lee and Andy May and Beds pair Hawksby and Manley) the lunchtime score an entertaining 2 all.
The afternoon singles kicked off with early wins for Bedfordshire. Seb Lovell against Josh Read and Norman Cilliers beating Jamie Richards with Brandon getting the better of Scott Armitage. Beds then, leading 4/3 overall and Essex in danger.
The strength in depth of the Essex team however came through in the end with all of the remaining 5 games going our way. Afternoon result 6/2 to Essex and an overall match score of 8/4 in our favour. A much tighter match than the score suggests and all credit to a very good Bedfordshire side.
Thanks given by both County Captains Andy May and Norman Cilliers to our hosts Chelmsford and their members For allowing us the use of the course, it's excellent condition and their hospitality.
Next up is the defence of our Eastern Counties Foursomes Title (and hat-trick of wins) at Seacroft Golf Club, Skegness next weekend with the next league fixture away at Frilford Heath against BB&O the weekend after.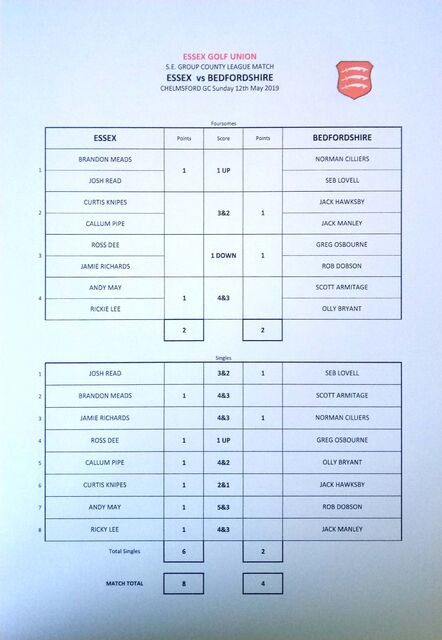 Team; L to R Ross Dee (Orsett), Ricky Lee (Boyce Hill), Brandon Meads (Chelmsford), Josh Read (The Rayleigh Club), Andy May (Capt, Boyce Hill), Callum Pipe (Braintree), Curtis Knipes (Chelmsford)
Phil Hulse, County Team Manager